went out for movie (in the name of king), books, VOGUE, TEEN VOGUE and foods.. just another lazy sunday i spent with family..
wore my favo outfit.. tee+shorts+sandals..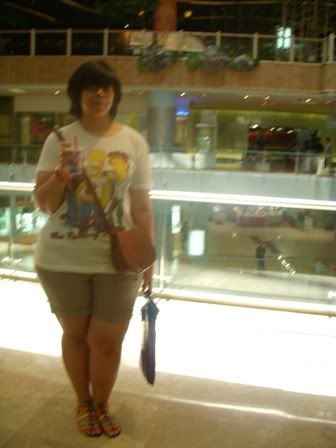 with the evil brother while the angel brother took the pictures using my mom's camera
good news.. turned out that kinokuniya in grand indonesia have VOGUE PELLE a.k.a VOGUE ITALIA a.k.a my favorite VOGUE!! while another kinokuniya only sells french, british and usa VOGUE
okay, okay..i know that my italian is horrible but i do need to improve it and reading VOGUE ITALIA is one way of another, rite????
heehee..excuses!!
update: VOGUE PELLE is a VOGUE for LEATHER!?!?!? i was mistaken!!
and by the way.. i killed myself with entering TOPSHOP, those cute dresses, shorts, skirts, tees and nothing fits me..
geez!