i left jakarta this morning and fly to makassar to attend on cousin's wedding!
finally, not just a baking-all-day holiday anymore! thanks god..and mom and dad!
talking about travelling..what's your most essential thing on travel?? me..i'd say, comfortness and magazine!
i wore my favo jeans and a checkers shirt today, plus my lowe pro backpack..errrr, i think i looked so boyish today and i kinda dont like it. to be honest.. im not in my best fashion-mood today!
but when i saw polo ralph lauren store at the airport i exactly begged my mom to stopping by and....she agreed to bought a shirt dress for me (yay! my all time favo!).
i chose the gray one because...i love that color! after that... the smile is so on my face. well, i still felt a lil' not-so-good about my clothes..
okay..the jean is sooo comfy and i love it so much, it would be look good if i pairs it with band t-shirt or oversize T and sneakers (i wore my birkenstock in order of comfyness which is sooo wrong!(well it would look good if i was size 6. wearing jean, shirt and birky only made me look like a fuggin fat ass lesbo! especially since i cut my hair so short)) and hippie band, the jean would look good on agyness not me..im a girl-girl (duhh! what am i talkin about?!).
okay, the thing is it was a comfy clothes but i just dont felt comfy with it!
whatever!!!!
on the plane, i was digging through my backpack and found my favo travel things (other than wallet and pasport and my camera and especially not my lomo coz i got sooo 'mmeh' with it!)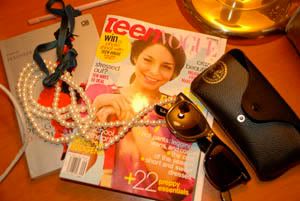 well well..those actually my everyday favo things (ray-ban and teen vogue?? who doesnt?!)heehee..and talk about the pearl neklace and bow head-band. i got addicted to pearl neklace lately since i watched carry bradshaw wears it to bed and every where. okay, mine is not chanel or whatever but its still look good (trust me!).
the bow head-band is for my 30's mood, for those night when i feel so vintage, when i put my vintage lace dress i found in portobello market...sigh!
and and and...the best thing is.......................
my purple longchamp travel set (PS:i bought them in lafayette, paris *snob*)!!
whatever!!!!