sooo..everyone been talking about michael phelps this and michael phelps that.. and i kinda got boring with that!
okay, i know that he won eight gold medals, he has the biggest breakfast, lunch and dinner (kinda jealous of his everynight spaghetti dinner) and he's hot..
but.. i dont think that he's so hot, he has a weird jaw and weird smile.
weird, huh?!

so lets take a look at ricky berens..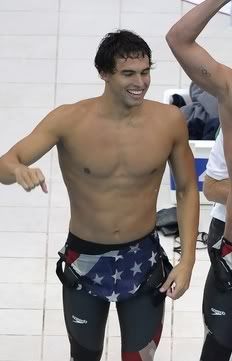 he's cuter, rite??
i dont care if he only won one gold medal (stiil a gold!), i just care that he is hotter and cuter than michael phelps..
short bio



Birthdate:
April 21, 1988


Weight:


194 lbs (88 kg)
Height:
6'2" (1.88 m)


Age:


20 years


Gender:


Male

i cant find much news or article or else about him or gossip whatsoever..
sooo..anyone of u know about his personal life?? like his girlfriend whatsoev???
plisss tell me..


this is him with peter vanderkaay and michael celebrating as Ryan Lochte wins the men's 4 x 200m freestyle relay swimming final at the National Aquatics Center during the 2008 Beijing Olympic Games in Beijing on August 13, 2008