okay. so manchester united lost 1-2 to liverpool (c'ratz aina!) and from what i heard from my brother (we watched the game via live streaming and it did not good, seriously! i cant see which one was tevez and which one was rooney) they didnt play well last night..
the only goal came from my king tevez (oowh, i love you i love you i love you)..
and the new signing has caught my eyes... i welcoming dimitar berbatov..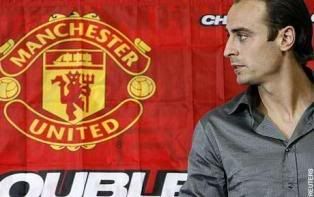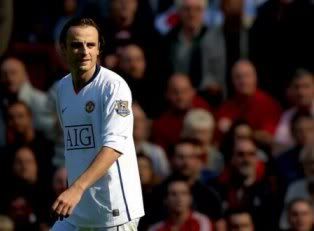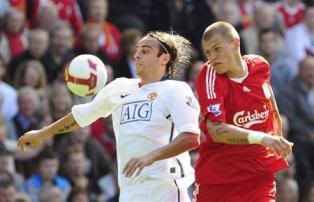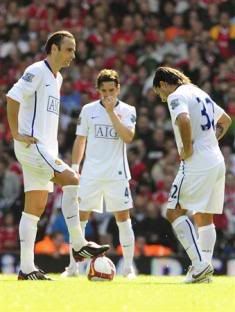 he is seriously hot!

Dimitar Berbatov is a classy and complete centre-forward, pairing the ability to ruthlessly and regularly find the net inside the box with the aptitude to create moments of sheer magic outside it.Sir Alex likes players with plenty of charisma in the way they play, and the Bulgarian's languid style is instantly recognisable on the field. It's also an approach that has drawn comparisons with former United talisman Eric Cantona. Like the captivating Frenchman, Berbatov loves to entertain with the ball at his feet. United fans are in for a real treat with the Bulgarian in a United shirt in attack alongside Wayne Rooney, Carlos
Tevez, Cristiano Ronaldo et al.Berbatov started out at Bulgarian side CSKA Sofia. He joined The Armymen aged 17, following in the footsteps of his father, Ivan, who also played for the club. After making his debut aged 18 in the 1998/99 campaign, he went on to score 14 goals in 27 league matches the following season.His talent quickly attracted attention from Bundesliga club Bayer Leverkusen, who made their move for the Bulgarian front man in January 2001 after an impressive start to the season for CSKA. Berbatov – national team captain and Bulgarian Player of the Year in 2002, 2004, 2005 and
2007 – made a slow start to his time in Germany, but he regularly shone in the Champions League, scoring a spectacular solo goal against Lyon and also finding the net against Liverpool (already he's in favour).The only blot on his copybook is that he was part of the Leverkusen team that knocked United out of the Champions League semi finals in April 2002. He came on as a substitute in the final as the Germans lost 2-1 to Real Madrid in Glasgow.Berbatov was eventually lured to the Premier League when Tottenham signed him in July 2006 for a reported £10.9million fee. He was an instant hit at
White Hart Lane, scoring his first competitive goal two minutes into his home Premier League debut against Sheffield United. He went on to score 23 goals in his opening season, which he matched again in 2007/08, a campaign which saw him voted Fans' Player of the Year.However, after months of speculation linking him with a move to Old Trafford in the summer of 2008, Sir Alex Ferguson finally got his man on transfer deadline day with just minutes to go. Berbatov signed a four-year contract on 1 September 2008 for an undisclosed fee, with Fraizer Campbell heading to White Hart Lane on a season-long loan as part of the deal.
Full name:Dimitar Ivanov Berbatov (Bulgarian: Димитър Бербатов)
Birthdate: 30 Jan 1981
Birthplace: Blagoevgrad
Position: Striker
Joined United: 01 Sep 2008
United Debut: 13 Sept 2008 v Liverpool (A)
International: Bulgaria
i dont know if he's single or not..but lets hope NOT!